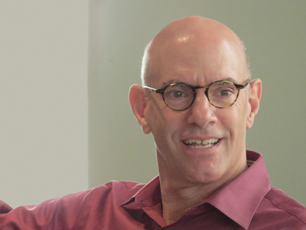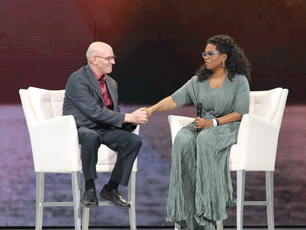 Welcome. I hope the fall has treated you well. I'm excited to share that my new book, Inside the Miracle, is now available from Sounds True. The book gathers twenty-eight years of my writing and teaching about suffering, healing, and wholeness. (For more, see below).
One thing I keep learning over the years is that when in pain or trouble, we often plead with some larger force to "Get me out of this," when life is prompting us to say, "Show me the meaning in what I've been given, so I can find my way through it." If blessed, we put down our stubbornness and admit that we're on the same journey.
And so, while the lessons in this book come from my journey through cancer, what's here is really for everyone, as we all struggle to make our way through unexpected hardship. Along the way, we keep learning from each other. In time, we're asked to let beauty in while we're suffering, because beauty is a form of medicine. Whatever is before you, I hope this book can be a warm companion and a strong resource.
I'm also just about to enter a full fall of travel and teaching, and my speaking-teaching schedule for 2016 is now all set. This includes workshops, retreats, and keynotes across the country and abroad. So I hope to meet you somewhere along the way. My weekly reflections are still being shared through Threeintentions.com. If you sign up for the email list there you will automatically receive them. You'll also find daily quotes from my work posted on my Facebook page. Finally, I'm happy to let you know that Susan and I have a new yellow lab, Zuzu, named by my wife after Zuzu's petals in the 1946 classic movie, It's A Wonderful Life. Zuzu's a rescue dog who was found on the streets of Kentucky and she and her big eyes are already in my heart.
— Mark

Mark Nepo – Inside The Miracle
MARK HAS A NEW BOOK AND A NEW AUDIOBOOK, INSIDE THE MIRACLE, COMING OUT NOVEMBER 1 2015
INSIDE THE MIRACLE: ENDURING SUFFERING, APPROACHING WHOLENESS
In 1987, Mark Nepo was diagnosed with a rare form of lymphoma. The heart of that journey and its aftermath has greatly informed his work. In 1994, Mark published and recorded a landmark book, Inside the Miracle, about the nature of suffering and resilience, which Publishers Weekly called one of the best audiotapes of the year. The book had a greater reach than anyone imagined. Sounds True is now publishing a new, expanded edition of Inside the Miracle, which gathers twenty-eight years of Mark's writing and teaching about suffering, healing, and wholeness, including: the original poems and prose from Inside the Miracle (1994, 1996, now out of print), ten relevant essays from his collected personal essays, Unlearning Back to God (2006, now out of print), and thirty-nine new poems and prose pieces not yet published. Of the book, Mark says, "One of the great transforming passages in my life was having cancer in my mid-thirties. This experience unraveled the way I see the world and made me a student of all spiritual paths. It's my hope that the trail of this lifetime conversation with suffering and care will open you to the fullness of your own humanity. With a steadfast belief in our aliveness, I hope what's here will help you meet the transformation that waits in however you're being forged."
Inside the Miracle is simply the best book I have read in years. Mark Nepo invites us to live a human life, fully, joyously and without reservation, using all our experiences and vulnerabilities as a precious opportunity to encounter and serve the Mystery. He has blessed us all.
— Rachel Naomi Remen MD, author of Kitchen Table Wisdom and My Grandfather's Blessings

SUPER SOUL SUNDAY INTERVIEWS
Watch Mark on Super Soul Sunday
In November 2013, Mark's Two-Part Interview with Oprah appeared on Super Soul Sunday on OWNTV. In these interviews with Oprah, Mark discussed the lifelong lessons from his cancer journey twenty-six years ago, and why he believes listening with a full heart is the key to living a vibrant and meaningful life. Mark explains how modern-day distractions can keep us from establishing deep connections with one another; he offers practical insights on how to cultivate our listening skills, deepening relationships with ourselves and others.
WATCH THESE CLIPS!
First Look: Mark Nepo and Oprah Continue Their Conversation
Oprah's conversation with New York Times best-selling author Mark Nepo continues at her home in Hawaii. Mark discusses his book Seven Thousand Ways to Listen and shares why he believes listening with an open heart is the key to living a vibrant and meaningful life.
First Look: Why Poet Mark Nepo Says There Are 7,000 Ways to Listen
Poet and best-selling author Mark Nepo's latest book is called Seven Thousand Ways to Listen. Watch as Mark reveals the inspiration for the title.
Mark Nepo: "Everyone Is a Poet"
Poet and best-selling author Mark Nepo says poetry is the "unexpected utterance of the soul." Find out why he says a poem is more than just words on a page. Plus, hear why he thinks we all have a poet inside of us.
Mark's most moving quotes from his two-part interview with Oprah
In a two-part interview with Oprah on Super Soul Sunday, Mark Nepo shares his thoughts on embracing the moment, the power of listening and more. Read 9 of his most moving quotes.
Oprah Reads Mark's Poem in This Beautiful Video
On my way to Maui to meet Oprah, I wrote this poem about our meeting on an island with such an ancient and beautiful bamboo forest. Oprah and the Super Soul Sunday crew created this amazing video of the bamboo forest with Oprah reading the poem. This formed the close of part 2 of my interview with Oprah on Super Soul Sunday. Oprah reads Mark's poem in this beautiful video Read Mark's poem
The Bigger Picture—Super Soul Sunday (web link)
In May 2013, Mark was also featured on Super Soul Sunday alongside Reverend Ed Bacon and Elizabeth Lesser, with Oprah moderating. The show explored contemporary issues from a spiritual perspective.
Also read Mark's blog post, "The Life of Obstacles," on Oprah.com.

Praise for Reduced to Joy, Mark's Latest Book of Poems
CITED BY SPIRITUALITY & PRACTICE AS ONE OF THE BEST SPIRITUAL BOOKS OF 2013
In 2013, Viva Editions published Mark's seventh book of poems, Reduced to Joy, a book of seventy-three poems, retrieved and shaped over the last thirteen years, about the nature of working with what we're given till it wears us through to joy.
"Reduced to Joy has many different kinds of poems, all of them clear, wise, beautifully put, spare. Mark Nepo has a great heart. His poems are good company."
— Coleman Barks, translator of The Essential Rumi
"Mark Nepo's poems in his new book, Reduced to Joy, reduce me first to grateful silence, and then to tears, and then to laughter, and then to praise. He joins a long tradition of truth-seeking, wild-hearted poets—Rumi, Walt Whitman, Emily Dickinson, Mary Oliver—and deserves a place in the center of the circle with them."
— Elizabeth Lesser, Cofounder, Omega Institute, author of Broken Open: How Difficult Times Can Help Us Grow

WINNER OF THE 2012 BOOKS FOR A BETTER LIFE AWARD, FOR SPIRITUALITY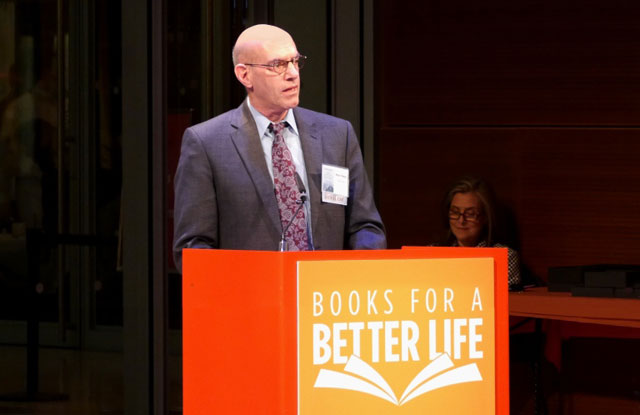 Praise for Seven Thousand Ways to Listen
A consummate master of telling stories and parables about people's hopes, dreams, yearnings, fears, sorrows and triumphs… Nepo has written a masterwork on the spiritual practice of listening which plays such a predominant role in our private and public lives.
— Frederic and Mary Ann Brussat, Spirituality & Practice (full review)
This masterpiece on listening comes at a vital time when divisions in American run rampant around politics, race, and religion.
— Debra Moffitt, BeliefNet, author of Awake in the World (full review)

Mark discusses his book, Seven Thousand Ways to Listen

Loading the player ...

Mark Nepo's The Book of Awakening is one of
Oprah's Ultimate Favorite Things! (web link)
The Book of Awakening by Mark Nepo is a year's supply of inspirational stories and beautifully written essays that the reader can reflect on in daily doses. "Mark Nepo is a poet," Oprah says. "He's an author and a philosopher and has been through two different cancers. So when he writes, he writes purely from the heart."
Oprah was given The Book of Awakening as a birthday gift and says she does one lesson from the book every morning. "If we all do it together, we can begin to open our hearts, change the world and begin to have the life you want by being present to the life you have now," Oprah says.

Loading the player ...

Listen to Mark Nepo in conversation with Oprah on her Soul Series radio program.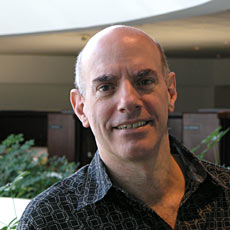 For years, I've been trying to explore and understand: How can we, being forgetfully human, remember we are of one human family? How can we stay awake and authentic when our wounds make us numb and hidden? How can we minimize what stands between us and our experience of life? How can we make a practice of wearing down what thickens around our mind and heart? How can this practice of staying authentic serve and draw strength from the Universal Whole while we are ever immersed and entangled in the moment of our lives?
As a cancer survivor, I have found myself like Lazarus, awake again, in the same earthly place but different. Everything has changed and nothing has changed. This wakefulness has led me to be a student of that vibrant edge where our inner life meets the world. Being a poet and philosopher, I find myself there with a particular set of tools to search with.
But we all live on this shore between the depths of being and the dangers of experience. My work has become a journal of the challenges and gifts of being a spirit in the world. And now, after dying and coming back, it's really not about my books, but about the voice beneath my name keeping the song going. These books and the voices that inhabit them remain teachers and intimates. They've helped to uncover sketchy maps into the quandaries of being alive. When struggling through my illness, I was bereft at how many of the books I owned were useless. Ever since, I have been committed to finding and creating books that can help us live. It is my devout hope that the work you find here can be of use, can help.