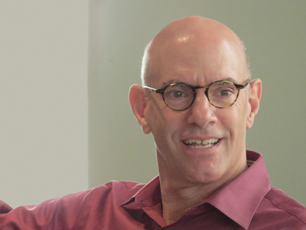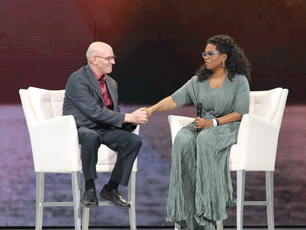 Welcome. I hope this finds you well. I'm eager to share that Atria recently published my new book The One Life We're Given: Finding the Wisdom That Waits in Your Heart. I've learned a great deal in retrieving this book, which furthers the short-chapter, story-driven form of The Book of Awakening. This book explores how our hard work and authenticity ready us for meaning and grace, and how our sincerity and effort help us to survive and thrive.
I'm also grateful that Sounds True will be publishing a major collection of my poetry on November 1, 2016, The Way Under the Way: The Place of True Meeting. This collection includes three books of poetry and gathers 217 poems written over the past twenty years. The central theme of this work is my ongoing inquiry into the inner space of the soul and the journey of being human. The place of true meeting, which is always near, is where we chance to discover our shared humanity and common thread of Spirit. Both books are now available on Amazon. Descriptions of both books are below.
And I'm excited that OWN has announced ?the inaugural SuperSoul 100, a collection of awakened influencers who are inspiring others to live an authentic life and help contribute to society. Oprah Winfrey, OWN CEO said, "Each of these individuals is uniquely connecting the world together with a spiritual energy that matters. These inspired leaders are using their gifts and voices to help elevate humanity." I'm honored to be among these voices, and a part of Oprah's good work (web link). Please check out the full list (web link).
And as part of my work, I continue to travel around the country teaching and speaking, a joy to meet and work with so many of you. I'm blessed to convene circles in which we open a heart space where my job is to help introduce good people to their own gifts and wisdom. I hope to see you somewhere along the way.
— Mark

Mark will be in New York City December 15, 2016, and again March 3&4, 2017.
Dec 15, 2016: Thrive Pop Up Store, What It Means to Thrive, A Publication Reading & Conversation, 7:00-9:00PM, 419 Broome Street, SOHO, New York City
I want to congratulate Arianna Huffington for creating Thrive Global as a resource, which can help us restore meaning and care in our culture. As part of its launch, I'd like to offer an evening of readings and conversation about what it means to thrive. I hope you can join us.
— Mark
Beloved as a poet, teacher, and storyteller, and The New York Times #1 bestselling author of The Book of Awakening, Mark Nepo will read from his two latest books, The Way Under the Way: The Place of True Meeting, which gathers twenty years of his poetry, and The One Life We're Given: Finding the Wisdom that Waits in Your Heart, his latest non-fiction inquiry into the practice of being human and our effort to restore what matters, while making good use of our heart.
This reading and conversation will center on our connection to the depth of life, that place of true meeting that is always near, where we chance to discover our shared humanity and common thread of Spirit. About surviving and thriving, Marks says, "Every day, we're asked to move at the pace of what is real, to see each other for the first time, to take the risk to be wholehearted, and to have the courage to stay soft and strong and kind—this is what it means to thrive. In moments of thriving, we repair each other and illuminate the world."
March 3-4, 2017: ABC Carpet & Home, Weekend Workshop, The One Life We're Given: Finding the Wisdom That Waits in Your Heart, Fri 7-9PM & Sat 10:30AM-6:30PM, 888 Broadway and 19th north of Union Square, New York City, (web link)
This two-day workshop will weave themes from Mark's new book, The One Life We're Given: Finding the Wisdom that Waits in Your Heart, and his #1 New York Times bestseller, The Book of Awakening. The two-day journey will bring you more deeply into the river of your own life.
This journey offers a chance to work with Mark as a way to deepen your inner life. The weekend will explore the practice of being human as an applied art of spirit while unfolding the archetypal dynamics we all encounter in our struggles to engage our full humanity.
Using ancient and contemporary stories, poetry, journaling, and dialogue, Mark invites participants to befriend their own stories and listen for their own wisdom in this reflective and transformational journey. This course is an invitation to engage with profound and life-giving material that will deepen the way you perceive and relate to the world.
"Studying with Mark Nepo is like discovering new landscapes within my soul. I always want to go with him because he knows the terrain so well. Together we travel through deep time. I am transported in awe and wonder. I emerge on the other side with new eyes…new sight…informed in ways that save me, and daily."
— Elesa, Chicago, IL

MARK HAS A NEW BOOK AND A NEW AUDIOBOOK THE ONE LIFE WE'RE GIVEN: FINDING THE WISDOM THAT WAITS IN YOUR HEART (ATRIA, JULY 19, 2016)
The wisdom presented on the shining pages of this holy book is another luminous gift from a gallant, grateful and imaginative spiritual master.
— Spirituality & Practice (read full review)
This new book affirms how precious this one life is and opens the chance we have to be fully alive and to be of use to each other and the world. Through personal stories of joy and grief, friendships and challenges, I try to illuminate how the life of the soul is shaped and crafted every day. I offer reflective questions and meditations to help make sense of our own experience and appreciate each moment. In truth, we learn to shape our perspective as a woodworker might carefully shave a piece of wood to reveal its inner grain. And throwing ourselves wholeheartedly into what we're given brings us alive—whether we must deal with suffering, pain, fear, and loss, or surprise, beauty, love, and wonder. Each becomes an opportunity to listen more deeply to our feelings, to deepen our connection with others, and to sense the sacred nature of ordinary things.
As we discover for ourselves the lessons of our journey, we are led to the wisdom that waits in our heart, the inner knowing of what truly sustains us—feeling, loving, and connecting—which allows us to fully live the one life we're given.
I confess that working with you as readers and students is a path I am devoted to. This path is a continuous inquiry into what it means to be human, to be here, and to care for each other. My hope is that you will deepen your conversation with life. That through your own path of obstacle and surprise, you will be opened to your gifts and become somewhat freed of all you carry. My hope is that this book will support you in becoming skilled at living with both effort and grace.
Mark Nepo is someone who walks through this confusing and sometimes dark world holding up a lantern and lighting the way. I can say with all certainty that I would follow this man anywhere his words want to take us.
— Elizabeth Gilbert, author of Eat, Pray, Love and Big Magic
Mark Nepo is one of our national treasures.
— Rev. Ed Bacon
This book is a powerful guide to being in the world.
— Arianna Huffington
Please check out this short video in which I describe the book

A MAJOR COLLECTION OF MARK'S POETRY, THE WAY UNDER THE WAY: THE PLACE OF TRUE MEETING, IS NOW AVAILABLE FROM SOUNDS TRUE
This collection contains three separate books of poetry, gathering 217 poems retrieved and shaped over the past twenty years. The first two books in this collection, Suite for the Living and Inhabiting Wonder, bear witness to the messy and magnificent journey of being human. First published in 2004, they were wonderfully received and sold out of their first editions. Evolving these books further, Nepo has integrated fifty-eight new poems. The third book in this collection, The Way Under the Way, gathers eighty-three of his most recent poems. It centers on the place of true meeting that is always near, where we chance to discover our shared humanity and common thread of Spirit.
About poetry, Mark says, "The poems are the teachers. They arrive with their wisdom and become my guides. What they surface becomes my inner curriculum and by staying in conversation with them, I grow. We're all drawn to what we need to learn, which if engaged with honesty reveals insights common to us all." Of the books, he says, "My hope is that the arc of these poems will be aids in living, listening, and beholding each other. I offer them as small wonders found and cared for through the years."
Mark Nepo's poems are like rare wine that directly nourish the soul. These are stories of the heart, of brokenness that heals, of grief that awakens us to joy.
— Llewellyn Vaughan-Lee, Ph.D., Sufi teacher and author
en I read Mark Nepo's luminous, meditative poems, one word stands tall in the mind and silence that follows—BEFRIEND. He does not avert his eyes from the difficult moment or the lost hour. He stays steady to feel the magnificence again.
— Naomi Shihab Nye, author of Words Under the Words
In this magical book, Mark Nepo ushers us to the depth of who we are and where we truly live. His words, like pearls for the Human soul, awaken us and transform the ordinary into the mystery of our being.
— Agapi Stassinopoulos, author of Unbinding The Heart

SUPER SOUL SUNDAY INTERVIEWS
Watch Mark on Super Soul Sunday
In November 2013, Mark's Two-Part Interview with Oprah appeared on Super Soul Sunday on OWNTV. In these interviews with Oprah, Mark discussed the lifelong lessons from his cancer journey twenty-six years ago, and why he believes listening with a full heart is the key to living a vibrant and meaningful life. Mark explains how modern-day distractions can keep us from establishing deep connections with one another; he offers practical insights on how to cultivate our listening skills, deepening relationships with ourselves and others.
Watch these clips and more at Super Soul TV
First Look: Mark Nepo and Oprah Continue Their Conversation
Oprah's conversation with New York Times best-selling author Mark Nepo continues at her home in Hawaii. Mark discusses his book Seven Thousand Ways to Listen and shares why he believes listening with an open heart is the key to living a vibrant and meaningful life.
First Look: Why Poet Mark Nepo Says There Are 7,000 Ways to Listen
Poet and best-selling author Mark Nepo's latest book is called Seven Thousand Ways to Listen. Watch as Mark reveals the inspiration for the title.
Mark Nepo: "Everyone Is a Poet"
Poet and best-selling author Mark Nepo says poetry is the "unexpected utterance of the soul." Find out why he says a poem is more than just words on a page. Plus, hear why he thinks we all have a poet inside of us.
Mark's most moving quotes from his two-part interview with Oprah
In a two-part interview with Oprah on Super Soul Sunday, Mark Nepo shares his thoughts on embracing the moment, the power of listening and more. Read 9 of his most moving quotes.
Oprah Reads Mark's Poem in This Beautiful Video
On my way to Maui to meet Oprah, I wrote this poem about our meeting on an island with such an ancient and beautiful bamboo forest. Oprah and the Super Soul Sunday crew created this amazing video of the bamboo forest with Oprah reading the poem. This formed the close of part 2 of my interview with Oprah on Super Soul Sunday. Oprah reads Mark's poem in this beautiful video Read Mark's poem
The Bigger Picture—Super Soul Sunday (web link)
In May 2013, Mark was also featured on Super Soul Sunday alongside Reverend Ed Bacon and Elizabeth Lesser, with Oprah moderating. The show explored contemporary issues from a spiritual perspective.
Also read Mark's blog post, "The Life of Obstacles," on Oprah.com.

Praise for Mark's Book of Poems, Reduced to Joy
CITED BY SPIRITUALITY & PRACTICE AS ONE OF THE BEST SPIRITUAL BOOKS OF 2013
In 2013, Viva Editions published Mark's seventh book of poems, Reduced to Joy, a book of seventy-three poems, retrieved and shaped over the last thirteen years, about the nature of working with what we're given till it wears us through to joy.
"Reduced to Joy has many different kinds of poems, all of them clear, wise, beautifully put, spare. Mark Nepo has a great heart. His poems are good company."
— Coleman Barks, translator of The Essential Rumi
"Mark Nepo's poems in his new book, Reduced to Joy, reduce me first to grateful silence, and then to tears, and then to laughter, and then to praise. He joins a long tradition of truth-seeking, wild-hearted poets—Rumi, Walt Whitman, Emily Dickinson, Mary Oliver—and deserves a place in the center of the circle with them."
— Elizabeth Lesser, Cofounder, Omega Institute, author of Broken Open: How Difficult Times Can Help Us Grow

WINNER OF THE 2012 BOOKS FOR A BETTER LIFE AWARD, FOR SPIRITUALITY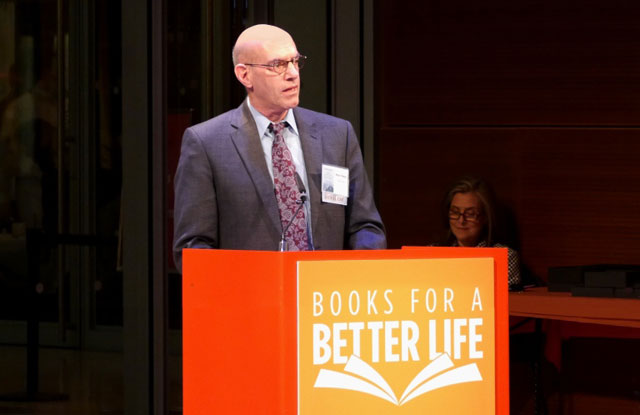 Praise for Seven Thousand Ways to Listen
A consummate master of telling stories and parables about people's hopes, dreams, yearnings, fears, sorrows and triumphs… Nepo has written a masterwork on the spiritual practice of listening which plays such a predominant role in our private and public lives.
— Frederic and Mary Ann Brussat, Spirituality & Practice (full review)
This masterpiece on listening comes at a vital time when divisions in American run rampant around politics, race, and religion.
— Debra Moffitt, BeliefNet, author of Awake in the World (full review)

Mark discusses his book, Seven Thousand Ways to Listen


Mark Nepo's The Book of Awakening is one of
Oprah's Ultimate Favorite Things! (web link)
The Book of Awakening by Mark Nepo is a year's supply of inspirational stories and beautifully written essays that the reader can reflect on in daily doses. "Mark Nepo is a poet," Oprah says. "He's an author and a philosopher and has been through two different cancers. So when he writes, he writes purely from the heart."
Oprah was given The Book of Awakening as a birthday gift and says she does one lesson from the book every morning. "If we all do it together, we can begin to open our hearts, change the world and begin to have the life you want by being present to the life you have now," Oprah says.

Loading the player ...

Listen to Mark Nepo in conversation with Oprah on her Soul Series radio program.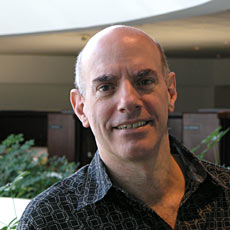 For years, I've been trying to explore and understand: How can we, being forgetfully human, remember we are of one human family? How can we stay awake and authentic when our wounds make us numb and hidden? How can we minimize what stands between us and our experience of life? How can we make a practice of wearing down what thickens around our mind and heart? How can this practice of staying authentic serve and draw strength from the Universal Whole while we are ever immersed and entangled in the moment of our lives?
As a cancer survivor, I have found myself like Lazarus, awake again, in the same earthly place but different. Everything has changed and nothing has changed. This wakefulness has led me to be a student of that vibrant edge where our inner life meets the world. Being a poet and philosopher, I find myself there with a particular set of tools to search with.
But we all live on this shore between the depths of being and the dangers of experience. My work has become a journal of the challenges and gifts of being a spirit in the world. And now, after dying and coming back, it's really not about my books, but about the voice beneath my name keeping the song going. These books and the voices that inhabit them remain teachers and intimates. They've helped to uncover sketchy maps into the quandaries of being alive. When struggling through my illness, I was bereft at how many of the books I owned were useless. Ever since, I have been committed to finding and creating books that can help us live. It is my devout hope that the work you find here can be of use, can help.